Our Featured Product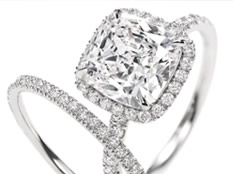 Diamond Rings
Come see our selection of Diamond Rings at our Adrian, MI location! The best combination of selection, expertise, and customer service!
---
Michigan's Jewelry Store
Serving Ann Arbor, Adrian, and Toledo
With an excellent staff of trained jewelers and years of experience in the jewelry industry, International Diamond has earned a reputation as the best jewelry store in Lenawee County. Come visit us today to browse through our selection of sterling silver, 14k and 18k gold, and platinum jewelry.
We offer in-store financing to help you find that special piece of jewelry to suit your lifestyle and budget.
Call us today at 517-265-9800, or browse our website for more information. If you have any other questions or comments, please e-mail us. We look forward to serving you.
---
Our Jewelry & Services
A diamond ring, a pair of sapphire earrings, Grandmother's necklace... these pieces are more than jewelry; they are part of you. With this in mind, International Diamond offers only the best in fine jewelry for our customers in Ann Arbor, Adrian, and Toledo.
Brilliant, Certified Diamonds
Exotic Gemstones
Finest Jewelry Selection
International Diamond excels in customer service. To serve you better, we offer the following services:
Custom Ring Designs
Custom Necklace Designs
---
About International Diamond: Your Local Jewelry Store
International Diamond is a premier jeweler located in Adrian, Michigan. We offer only the best fine jewelry. We guarantee that you will experience exceptional service at International Diamond, where one-of-a-kind jewelry can be found.